Ellerslie Events Centre Upgrade
Over the last two years, Edwards have safeguarded Ellerslie Event Centre's commitment to its clients, making sure that they continue to offer the latest in audio-visual functionality:
"The quality of our audio visual offering has been taken to the next level. The standard of the equipment installed and the control mechanisms have made a huge difference. We have seen an uplift in sales and are able to offer our clients a superior product at a great price."
- Craig Fenwick, Executive General Manager, Hospitality & Events
Summary:
The client wanted a future proofed solution with gains in efficiency (labour and power), reliability, audio and visual quality improvement and maximum value at a sensible cost, with as little downtime as possible for the venue.
Edwards delivered with a thorough evaluation of what could be re-used and what needed to be replaced, a state of the art digital processor, latest in amplifiers and a transformational Crestron control system.
Ellerslie Events Centre
Ellerslie Stand holds the main grandstand and event centre consisting of 26 function rooms plus outdoor spaces. That's 30 zones all up. Oh and it is also a racecourse for 26 days of the year.
Ellerslie Event Centre caters for a wide variety of events from large horse racing meetings with 20-30,000 people using every space and function room available – indoor and outdoor, to small business meetings. They do weddings, trade shows, concerts, school balls, business meetings, training workshops, seminars, dance parties and political meetings. Even the Dalai Lama has used the grandstands to address thousands of people.
For Edwards, Ellerslie's AV requirements are what the Dalai Lama might deem full enlightenment! One day they may have one event using the entire system, or another day there could be twenty completely separate events all doing their own thing.
Edwards Sound Systems have had a relationship with the centre owners, the Auckland Racing Club, since the 1960's. Edwards designed and installed the original system when the "new" grandstand was commissioned in 1986. Needless to say the amplifiers and speakers had done some hard yards but all lasted the distance – particularly the speakers. However, in the 28 years since the equipment had been installed, there have been some astounding advances in amplifier, audio and control system technology. Both the audio and video systems needed an upgrade.
Edwards staged the AV installation to suit the client. This is often the case when a renovation is being done in phases or due to budget constraints, and the Edwards team used their experience and AV smarts to ensure that a staged programme remained cost-efficient.
The client's main considerations were: future proofing (as much as possible), gains in efficiency (labour saving and power), reliability, audio and visual quality and achieving the maximum value at a sensible cost.
Edwards began the process in 2014 with a complete evaluation and inventory of the existing infrastructure. Several designs were put forward to give Ellerslie a number of options, one was accepted and the audio upgrade began in 2015. Craig Fenwick, Executive General Manager describes the process, "Edward Sounds provided a comprehensive proposal that addressed our issues at the time and that was a perfect fit for both our Racing Business and Event Centre Business. They really understood our requirements and delivered."
From Analogue to Digital:
A complicated manual jack-patch bay was replaced with a state-of-the-art digital audio processor with 64 channels of high quality digital audio to be routed to and from wherever it was needed.
This ticked a number of the client's boxes:
improved audio quality
greater reliability
labour-savings - going digital means that common system configurations are stored in the system memory and can be recalled at the push of a button
Cost-effective Audio System:
The 35 original amplifiers took up four equipment racks and produced about 5000 watts of audio power. Edwards replaced them with eight 1000 watt amplifiers taking up half a rack and producing 50% more power at 20% of the energy consumption. There's your power savings.
| | | | |
| --- | --- | --- | --- |
| Old amplifiers | New amplifiers | Old System - 4 racks for the amps | New system - half a rack for the amps! |
| | | | |
Simple Crestron Control System:
The client's need for a future-proofed solution and durability was answered with a Crestron Control System. Each function room now has a Crestron 7" touchpanel so users can easily adjust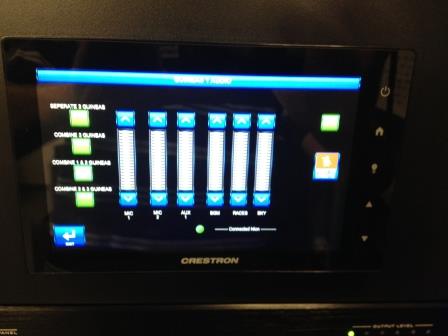 microphone and audio levels and recall other pre-set room configurations. The Crestron System is being phased in, initially providing only audio control, but to be expanded for the AV, projector and screen control during the next stage of the project.
The system also saves hugely on manpower. It can be monitored and adjusted from anywhere on or offsite. Handy on a Sunday when a technophobe is hesitant to make adjustments themselves, or has somehow made a mess of settings! Our technicians can fix it from home, or the Food and Beverage Manager can do it from his office.
Limited Downtime:
The Ellerslie Event Centre is busy – one of Auckland's busiest. It is a rare day when nothing is happening in one of the event spaces. As Jonathan Hardie Neil, Edwards Managing Director describes, "The upgrade operation had to be carried out with the patient fully awake. This involved some coordination and planning to have the processors and programming all finished and the new amplifiers racked and ready but with good communication anything is possible!"
One saving grace was that the original ceiling speakers installed in 1986 were mostly still in excellent operating condition, as was much of the original microphone cabling. The various input points in the rooms also did not need replacing meaning that the installation was carried out mostly in the "back office", limiting downtime.
Jonathan describes the process, "One at a time the rooms were disconnected from the old analogue system and shifted to the new system, tested and handed over immediately. The amplifiers have been running 24/7 ever since with no downtime for the system."
Ellerslie Events Centre was very impressed, Craig reflects, "The installation was smooth, faultless and had no impact on our clients while taking place."
Ease of Use:
That the new sound and control system be simple to use was critical to the Ellerslie Event Centre to save on labour costs and ultimately to benefit users of the Centre. Edwards obviously ticked this box explains Jonathan, "On the morning of the 'official launch' and the staff training session no one showed up! When we asked why, they told us that they had already figured out how it worked." Jonathan puts this down to the intuitive layout and program design on the control panel, "Apparently even the part-time and temporary staff only had to be told where the panel was and they could immediately begin using the system."
Craig concurs, "The upgrade provided a quality product with a modern state of the art design and an easy to use control system. This enhanced the sound and visual quality and the ability to control all sound devices in the room with the touch of a button."
Positive Impact on Ellerslie's Client Offering:
For Craig and his events team, "The quality of our audio visual offering has been taken to the next level. The standard of the equipment installed and the control mechanisms have made a huge difference. We have seen an uplift in sales and are able to offer our clients a superior product at a great price."
The Gear:
MediaMatrix Nion NX Audio Control Mainframe
MediaMatrix COBRANET Input and Output processors
Crestron CP3 control system processor
10 x 7" Crestron Touch screen control panels
8 x ITC T-4D240 Quad "Class D" audio amplifiers
Enquire Now
---