EMA New Training Facility
EMA's New Innovative Learning Centre: Audio Visual Design and Installation, plus Control System
Established over 100 years ago the Employers and Manufacturers' Association (EMA) provides real-time advice, training and short courses on everything related to running a business through to being an advocate on behalf of its members in contentious areas such as RMA reform, Employment Law, and infrastructure development.
They provide a huge range of courses in their business school (over 100) and most of the training is done in-house, as well as the seminars and conferences they also run for enterprises of all types (big, small, profit and nonprofit, and all industry sectors) located from Taupo covering the entire upper half of the North Island of New Zealand.
"Can you provide complete AV flexibility and full collaboration for our new innovative learning environment?"
Edwards were approached to provide a proposal for the design and supply of the audio visual and control system for EMA's new training facilities to be built next door to their existing offices in Newmarket, Auckland.
The facility would be used in multiple configurations from small meetings of 10-25 people to large conferences for 2-300 in the same space. Moveable walls allowed the creation of 5 separate spaces or a combination of rooms to be created. The AV system would need to adapt to the purpose and size of the space. David Foley, Manager of EMA Learning describes the process, "We called Edwards in as the experts and they worked through a number of different options. Edwards were able to offer workable compromises that factored in the height of the ceilings - the building being an ex-warehouse. They had the ability to think outside the square and make the space work for us"
Fostering collaboration needed to underpin the design of this modern learning environment. The ability to wirelessly share screens and encourage two-way communication with and between all participants was critical. Attendees would need to be able to hardwire or wirelessly connect with the display screens, as would the offices next door.
Jonathan Hardie-Neill, Managing Director of Edwards summarises the brief, "The client wanted the venue and facilities to be top of the line, feature the latest technology, support an innovative learning environment and be future proofed. Plus the system would be operated by people with varying levels of expertise."
Edwards' Solution
The system design we put together was sourced from leading manufacturers in their fields:
Crestron provided the processing and touch screen (wall mount and wireless) control panels for the control and automation systems to intelligently manage and control the AV in the meeting / conference spaces.
Kramer supplied the wireless collaboration solutions- Via Campus and Via Collage
BSS the digital audio processor and distribution providing instant recall of various room audio zoning configurations, all of which can be controlled by the Crestron control system.
We used Panasonic TVs and projectors - again all controlled by Crestron.
We sourced energy efficient (Class-D) multi-zone audio amplifiers from ITC.
Ensuring no compromise on quality and keeping costs at an acceptable level, we used DAS Audio loudspeakers.
The screens and electric sun-shade blinds were bespoke, manufactured by Screen Technics and freighted over from Australia – made possible due to the significant lead-in time that Edwards had on this project
Connectivity/collaboration
Connection into the system can be via a cable into any wall panel or wirelessly via the Kramer Via-Collage and Via-Campus. Jonathan explains, "These are amazing devices – the commercial version of 'Apple TV' but offering a lot more than simply wirelessly connecting presentations to screens. Delegates can receive and view the presentation on their own device be it an as iPad, tablet or laptop. They can take notes, make screenshots and save the presentation and annotations automatically to their device."
Video System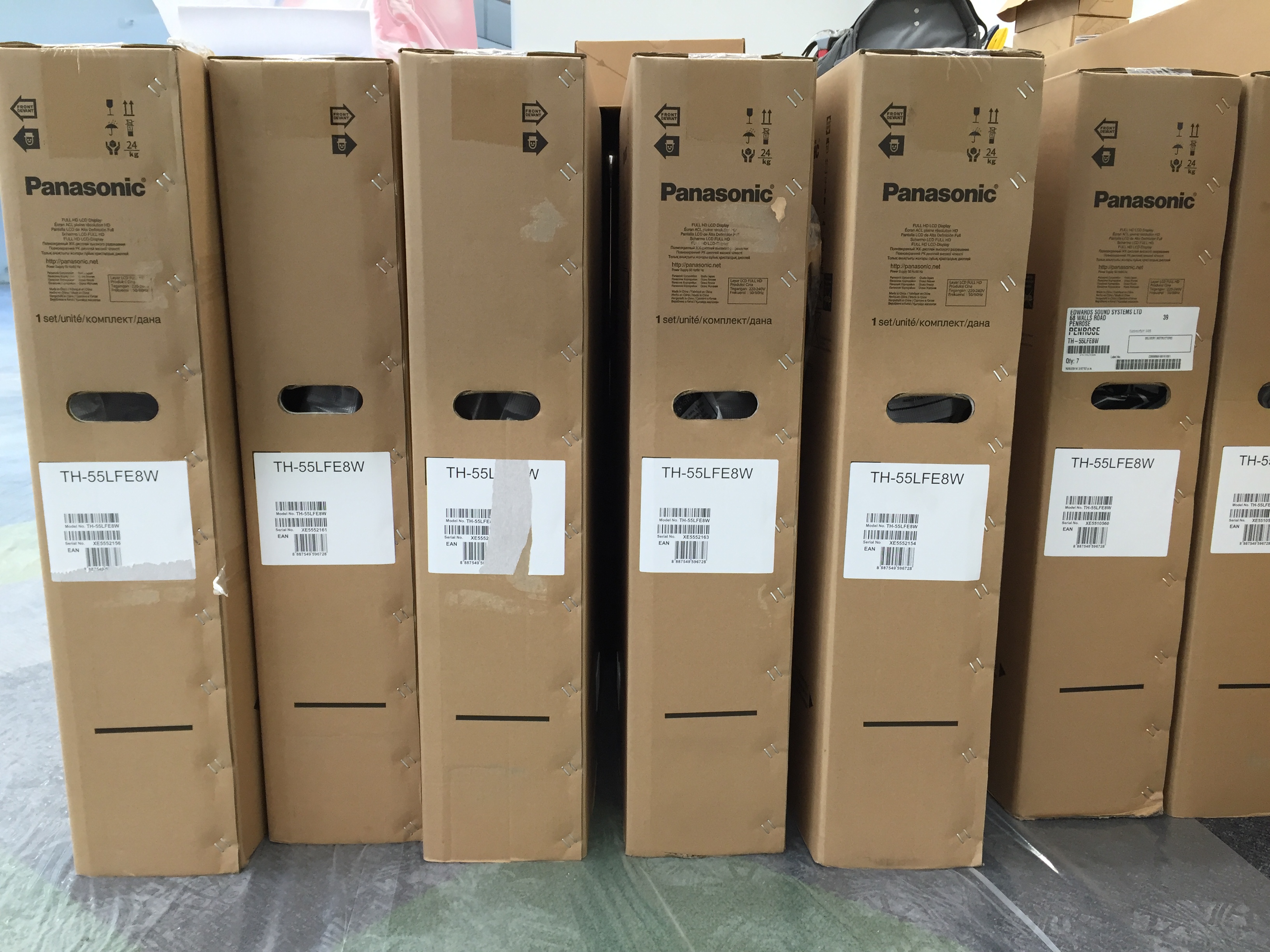 And there is definitely a choice of screens to connect to. The 5 flexible spaces were fitted out with 50" LCD TV's. 84" touchscreen TV's and HD data projectors were used in the main training and conference area. "Large electric projector screens, high definition projectors and integrated 84" LCD touch screens means there is plenty to look at!" comments Jonathan.
Audio System
The sound system was comparatively straightforward for Edwards, "It was easy - we proposed a zoned speaker system where each zone can be individually controlled, joined as one large room or any combination thereof."
Four wireless microphones were built into the system, but this can be simply expanded for an event that requires more mics by connecting a standard audio mixer into one of several input panels around the room.
Control System
One large Crestron 8.4" wireless touch panel was provided to control all aspects of the video and audio systems, as well as the spotlights for the stage, general lighting, electric sun-shades etc. It even controls the PTZ web-streaming camera mounted in the ceiling.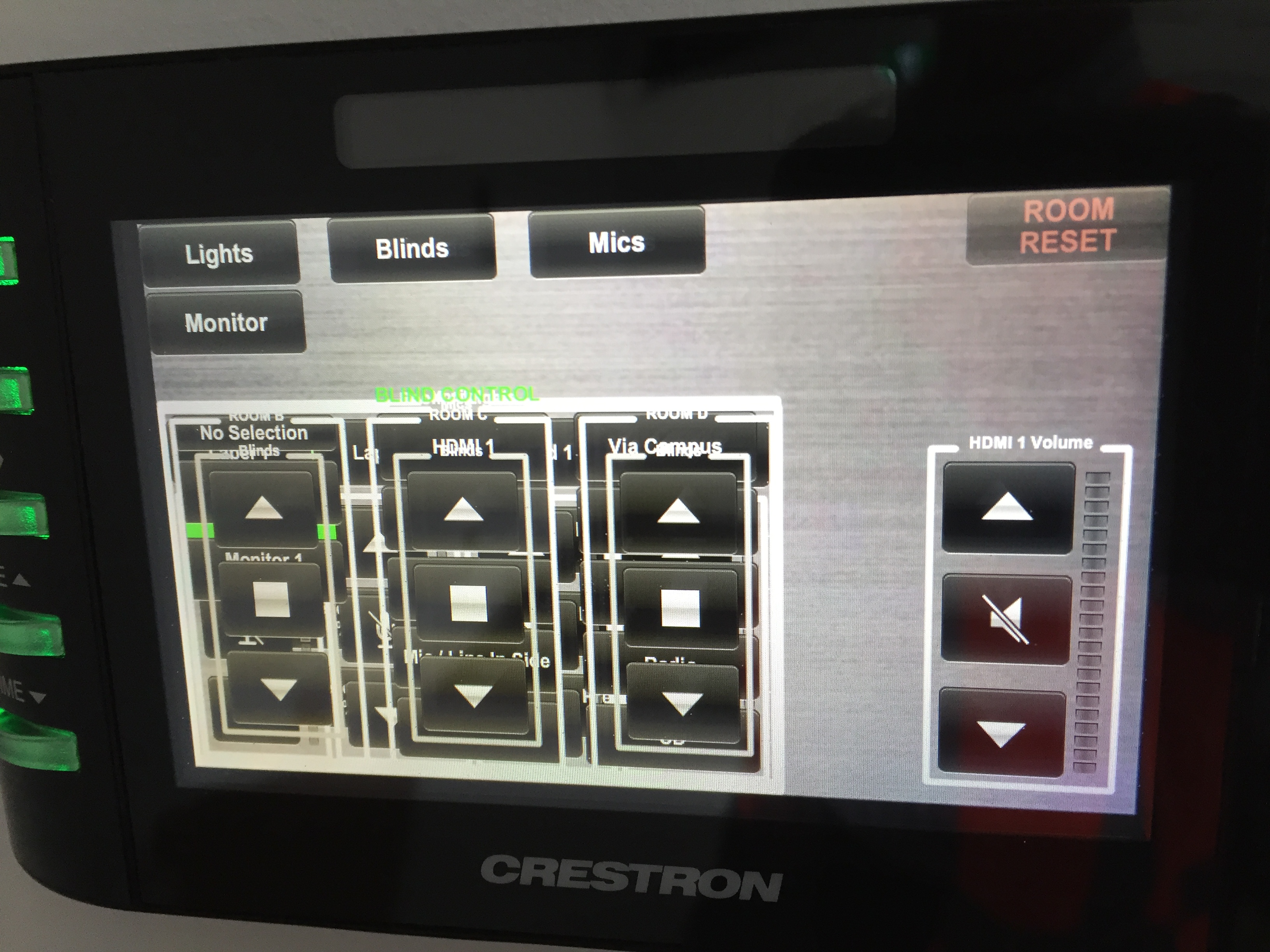 In each "zone" is a wall mounted touch panel for in-room control no matter the room configuration. David describes this as "Quite cool and more importantly idiot-proof!"
Edwards also included functionality to display room booking details on the TV outside each conference room. Edwards used a multi-screen display control tool developed by Wallflower, a New Zealand digital signage software and hardware company based just down the road in Ponsonby. "This was tricky to get right as it is operating over a secure network," recalls Jonathan. "We created a template of the room bookings, speaker bio's and other information and then shared that between the 30" LCD monitors mounted outside each room. You can use Excel so it keeps it simple for administrators."
Webstreaming
A broadcast quality PTZ digital camera is installed in the ceiling, an HD digital video recorder and web-streaming device that allows easy streaming of video and audio out to a dedicated webcast host or YouTube.
Edwards' Installation
For once Edwards had a generous lead-in time, and made the most of it exults Jonathan, "Unlike the usual call we get saying 'Ehhh, right, the gib goes up on Monday so can you guys please come and install some AV equipment over the weekend - oh, and the floor is being sanded so you can't walk on it', this was 18 months on the radar and 9 months from confirmation that we were the chosen contractor, so having such a long lead time was great for planning purposes, and also meant that when technology improved we could change the design to take advantage of it, and usually at a better price." Jonathan takes the opportunity to remind potential clients, "The further in advance you can share your plans with us the better the results will be!"
Throughout the planning stages, Edwards kept in close contact with the site builders and electricians to take advantage of access opportunities and to ensure that they were aware of any changes, "This made the process as smooth as possible and ensured there were no surprises for anyone." David Foley expands, "There were things like lighting and the web interface that were still being worked on when we were operational and the buildings were being used daily. Edwards went out of their way to create as little disruption as possible, coming in during the evenings and at weekends."
The Outcome
For David Foley the results are impressive and Edwards were "accommodating to deal with, minimised disruption and perhaps most importantly were patient!"
For Jonathan, "Seeing the look on the customer's face, when they realise that they can play a video on their iPad in one room, have it appear on all eight screens around the training centre simultaneously, while streaming it to the internet - all controlled from an 8' wireless panel is our reward. That's where we get our satisfaction!"
Read more about Control Systems
Enquire Now
---